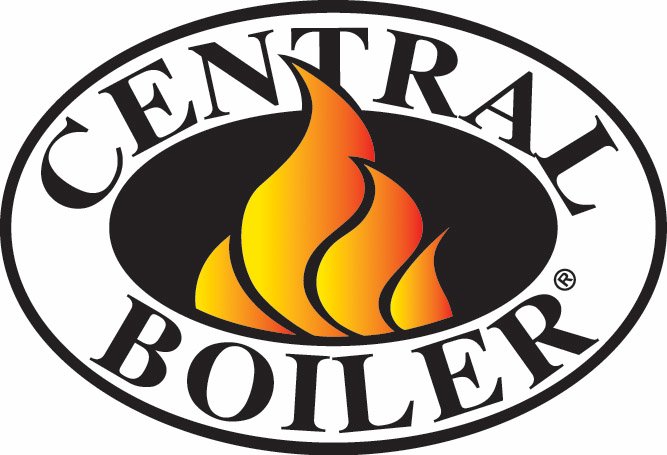 A safe, efficient outdoor wood furnace that can provide 100% of your heating needs. Central Boiler is the industry leader in the manufacture, sale and distribution of clean burning, EPA-certified outdoor furnaces. These outdoor hydronic heaters can be used to heat homes (including domestic water), workshops, pools, hot tubs, greenhouses, and more. They can even heat multiple buildings.
A Central Boiler outdoor furnace, with patented gasification technology, eliminates the problems associated with indoor burning and allows you to get even more benefits from heating with wood, coal, or wood pellets. Central Boiler outdoor furnaces can improve the indoor environment in your home or business, while saving money over non-renewable heating sources like, propane, home heating oil or natural gas whose cost increases when you need it most.

Visit our Central Boiler dealership website to view more information. Be sure to check out the videos and sizing and savings calculator near the bottom of the page. The site also has pricing and detailed installation instructions for the Do-It-Yourself person. We do, however, offer installation services and post-sale support.
We personally have saved over $25,000 in propane cost since installing our Central Boiler outdoor wood burner in January 2010. Use the calculator or contact us to find out how much money you can save. With optional financing provided by Central Financing, your monthly payment can be less than you are currently paying for you home heat.
Wood Heat: Good For You, Good For Our Environment --- An EPA-certified wood heating system is the right choice for the increasing number of people who are concerned about our environment. Unlike systems that rely on fossil fuels, wood is a renewable resource, which, when burned, results in no net carbon dioxide increase and helps reduce your carbon footprint. Carbon dioxide is part of the natural plant-growth cycle and occurs naturally when trees rot on the forest floor. On the other hand, fossil fuels, when burned, release carbon dioxide which otherwise would stay trapped in the earth. The burning of fossil fuels causes a net increase in carbon dioxide, which is believed to be responsible for the heat-trapping greenhouse effect. In addition, harvesting firewood has a pruning effect on forests, which allows new growth to flourish. And the wood you burn most likely comes from your local area -- it's not imported, as is the case with oil.

Outdoor Furnace Best Burn Practices --- Central Boiler, in partnership with our industry association, the Hearth, Patio and Barbeque Association (HPBA), recommends following the Outdoor Furnace Best Burn Practices.
Classic Edge Outdoor Wood Burner