Not all wood pellets are created equal...that's why we've teamed up with Energex for their Premium Hardwood Pellets. As they note on their website...
"At Energex, Quality is second to none. In addition to being certified under Pellet Fuels Institute's (PFI) Standards Program, we have spent years implementing one of the industry's most advanced, and rigorous, internal QA/QC programs. Our internal testing goes beyond what is required by the PFI Standards Program to ensure that the fuel in your bag exceeds specifications of the PFI Premium Grade.
Our process starts from the very beginning. We established a standard with our raw material suppliers to ensure that the wood coming in will meet our requirements for the pellets going out. The only loads that are accepted meet our standards for ash, moisture, and virgin wood fiber. All internal testing is performed in our advanced Quality Control Laboratories onsite at each facility."

Premium Hardwood Pellets are one of the best heating values available. For more information on the value of heating with pellets, see the independent reviews from the Pellet Fuels Institute, a North American trade association promoting energy independence through the efficient use of clean, renewable, densified biomass fuel. Learn more about the ecological, economical, and environmental benefits of densified biomass at their website www.pelletheat.org
---
Use Pellets (or Corn) to Heat your Home with a Central Boiler Maxim Outdoor Furnace!
---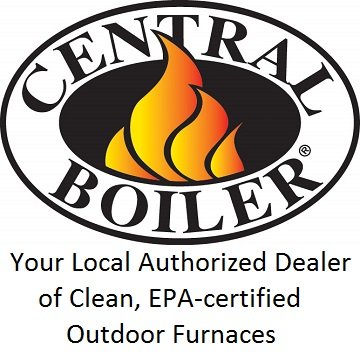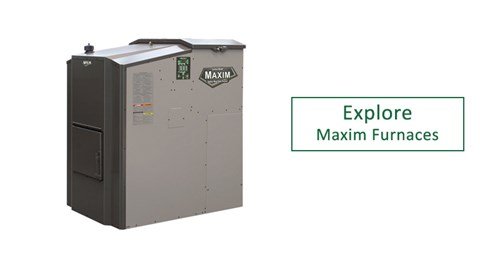 Specifications
Door - 15.5"W x 13.5"H
Weight - 1,310 lbs
Water Capacity - 90 gal.
Hopper Capacity - 11 Bushel (600 lbs)
Measurements and Foundation Dimensions - Illustration
Included with outdoor furnace - Water Test Kit, Cleaning Rod, Flue Brush Kit, Ground Rod Kit, Ash Scoop, Rain Cap and two 4-foot chimney sections
---
Features and Benefits
Freedom to do more - Tending an indoor wood pellet stove can be labor-intensive and require constant loading and maintenance. With a Maxim outdoor wood pellet and corn furnace, you'll have more time to do the things you want to do because of the large integrated hopper and extended burn times.
Get in your comfort zone - Unlike indoor wood stoves that can only heat one room, the Maxim gives you whole-home comfort. It uses your existing heating system to deliver the heat so you can set the thermostat where you want in different rooms. You can even heat other buildings like a garage.
Easy to operate - the FireStar combustion controller takes the guesswork out of operating (WATCH VIDEO).
Easy to maintain - the firebox design and heat exchanger system make for easy maintenance and cleaning.
Easy to install - installing your Maxim outdoor furnace is easier than you think. Many customers choose to install their own furnace because the installation can easily be completed using the installation manual (WATCH VIDEO).
Save as much as 75% on current heating costs
ELECTRIC IGNITION saves fuel - when there is no call for heat the controller stops adding fuel and the fire goes out. When there is a call for heat, the controller automatically relights the fire if needed
Integrated hopper is easy to load and holds up to 12 bags of wood pellets
Heat for a week on a single fuel load or longer with an optional hopper
Heats entire home, multiple buildings, pools, hot tubs and water with renewable wood pellets or corn
Eliminates mess from inside the home that indoor burning creates
Can be installed safely outdoors next to your home
U.S. EPA CERTIFIED to comply with New Source Performance Standards (NSPS)
Monitor Your Furnace Remotely - View real-time information, historical charts and more with the optional FireStar XP Wi-Fi Module.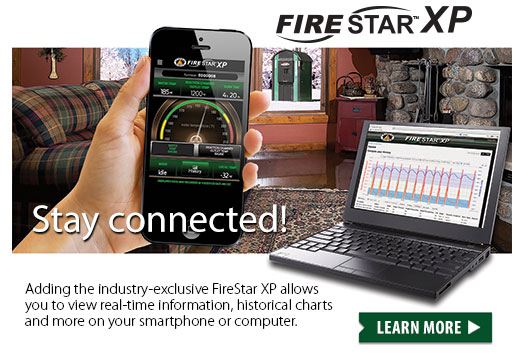 NOTE: Specifications are subject to change without notice.
---
Is this model right for my application? Use the Savings and Sizing Calculator to find out: