Forge 1500 Outdoor Coal Burner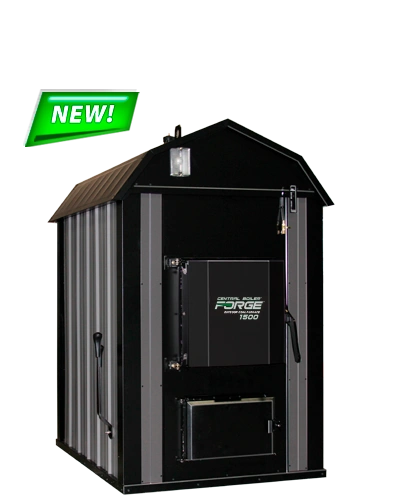 Forge 1500 Outdoor Coal Burner
Outdoor Coal Furnace
Heat Multiple Buildings - Heating multiple buildings is easy. The Forge 1500 has one set of 1-1/4" supply and return ports (that can be configured for two pumps).
Convenient Operation - Loading coal is easy with the large firebox door. Ergonomically designed, the firebox door is insulated and easy to open and close. Heavy-duty shaker grate, conveniently operated by handle on side of the furnace, allows ash to fall below into the ash collection area. Ash removal is easy.
Burn Less Coal - A hallmark of Central Boiler furnaces for over 30 years, spray-on urethane is the ultimate airtight, waterproof insulation that locks the heat in to reduce coal usage, even at temperatures of -35°F or colder. It provides 2-3 times the effective R-value of conventional fiberglass batt insulation.
Ultimate Control - The FireStar® combustion controller monitors all functions of the furnace and can store and share operational data. The controller's technology optimizes the combustion process by automatically adjusting the fan-forced air for a cleaner and more efficient burn. The controller's integrated wi-fi allows you to connect to your local wi-fi network and take advantage of the online features when you create an online account (see dealer for details).
Safety Tested/Listed
5-Year Warranty Available
Made in the U.S.A.
Door - 18"W x 18"H
Firebox - 40" x 30" x 26"
Heat Transfer Area - 52 sq ft
Ash Cleanout Door - 19"W x 11"H
Grate Size - 6" x 16-7/8"
Water Capacity - 150 gal.
Weight - 1,750 lbs
Supply/Return Ports - 1 set of 1-1/4" supply and return ports (can be configured for two pumps)
Btu Rating - 150,000 Btu/hr
Included with outdoor furnace - Water Test Kit, Ground Rod Kit, Thermostatic Valve Kit and two 4-foot chimney sections
NOTE: Specifications are subject to change without notice.