ThermoPex 1" Insulated Pipe (per ft)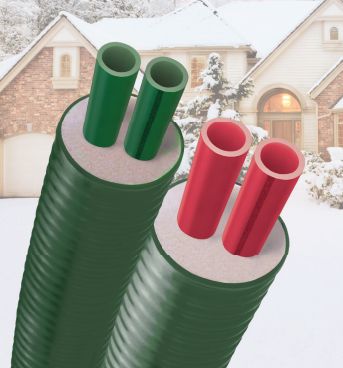 ThermoPex 1" Insulated Pipe (per ft)
WATCH THERMOPEX INSTALLATION VIDEO
Choosing the best insulated piping system for your outdoor furnace is imperative to lower heat loss and reduce the amount of wood you'll burn. The ThermoPEX insulated piping system from Central Boiler is a proven system that saves energy and maximizes the efficiency of your outdoor furnace.
We stock ThermoPEX with two 1-inch* oxygen barrier Central PEX lines, because the 1" ThermoPEX is recommended for all installations because of its superior insulation value over all distances.
Central Boiler also makes ThermoPex with two 1-1/4"** oxygen barrier PEX lines, or two 25 mm*** PEX lines (a supply and a return). All ThermoPEX is insulated with high-density urethane insulation and a thick, durable, waterproof polyethylene outer jacket.
ThermoPEX insulated piping saves energy and maximizes efficiency by keeping heat loss to a minimum. Greater system efficiency maximizes the delivery of heat from each pound of wood. That reduces wood consumption.
· Easy to install - ThermoPEX is pre-assembled and ready to install
· Can be installed even in high water table areas
· Outer casing is UV protected for temporary above ground installations (although interior water lines are not UV protected)
· Pipe is marked to easily identify supply and return lines
*CTS ASTM 1" supply and return | **CTS ASTM 1-1/4" supply and return | ***CTS ASTM 25 mm supply and return
Download the original ThermoPEX Brochure that features the 1" and 1-1/4" lines.